Since 2015, we are the #1 choice of Professional Fence Contractors.
We offer professional quality fence mounting hardware, proudly
MADE IN THE USA

!

Closing the gaps in your two, three, or four-rail vinyl rail fence has never been easier. Our very small and durable aluminum fence mounting clip will simplify and enhance your installation experience. The Fence Clamp helps to create a longer-lasting fence when compared to zip-ties, screws/washers, or plastic clips. The Fence Clamp is custom designed to be tight-fitting on your welded wire… unlike our competitor's product. Using our American Made aluminum Fence clip, you can create a more secure and long-lasting vinyl, PVC, wood, or metal fence. We offer the only "tight-fence solution".
Carefully designed for 12, 14, and 16 gauge welded wire.
NEW: LARGE version of The Fence Clamp, for 2,4, and 6 gauge cattle / hog wire panels… available here!

The Fence Clamp is your patriotic, low cost, convenient and professional solution!

Durable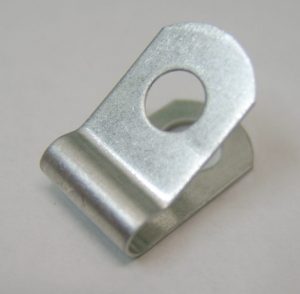 The Fence Clamp is made from US-sourced aluminum in an American factory. It is rain and weather resistant and specifically designed to be a long-lasting solution to your fencing needs. Thanks to its precision manufacturing and materials, The Fence Clamp is small AND strong!
Affordable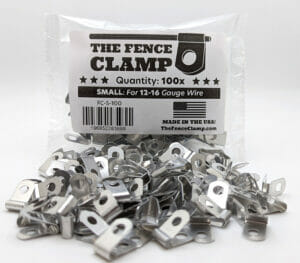 Priced at just under 25 cents per clip, The Fence Clamp pays for itself many times over in saved labor, when compared to plastic ties or poor quality competitor clips. Redoing a fence is extremely costly and time consuming. Do the job right he first time with The Fence Clamp!
Discreet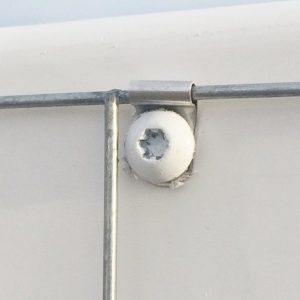 At about the size of a penny, The Fence Clamp is nearly invisible, yet it is very strong! We worked hard to produce a high-quality and high-tensile clip. It is the first choice of fencing professionals for long-lasting and beautiful vinyl fencing… Now you too can have a tight and affordable fence!
These clips are amazing!
Made our install 100% faster.
Secure and attractive!
Lesley of Ruther Glen, Virginia
Install Faster



The Fence Clamp pays for itself.
Professional quality fencing is very time consuming… it is like a form of art. A beautiful masterpiece requires the right brush to create. Save lots of install time by using our product.
When you choose The Fence Clamp, you not only choose the right tool for the job, but you also support our small but growing US company. Keep the jobs here at home!
What Sets Us Apart?
The Fence Clamp is different. Competitor clips are not only more expensive, but they're larger. This means that their clips are more visible once installed. We are yet to see a fence install clip that fits tight like The Fence Clamp! Most competitor mounting "clamps" do not actually clamp tight on the fence. This allows for movement up, down, left, right, front and back; All of the directions that you do not want your fence to move…We offer the only "tight and discreet" fence clamp solution!
Protect Your Animals
We are a company of animal owners. We originally created this product when we wanted a solution to contain our dogs, chickens, goats, and any other livestock/animals. The Fence Clamp provides an added layer of protection helping to secure your property's fencing perimeter. We are proud to offer this precision-engineered solution for a low price!
Help keep your PETS IN and the PESTS OUT!
Tight fences, yet almost invisible!
A professional and low-cost solution for fence installers is finally here! For decades, the market has sought a fence fastener clip to mount rolls of welded wire to vinyl fences. No more washers and screws. Big cable management clips are loose and floppy. Zip-ties are ugly! The Fence Clamp is about the size of a penny. When installed, it becomes harder and harder to see as you step away from the fence. Constructed of high-quality, US-sourced aluminum materials, this product is ready to not only look good, but it is ready to be put to work! The Fence Clamp is designed for a variety of fencing applications, and is offered at an unbeatable price.
Specifications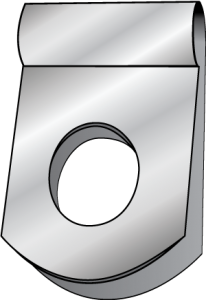 Materials
100% US Sourced Aluminum
Manufactured with

strict quality-control

in a US facility by US workers
Designed for outdoor applications
Made for its tight fitment, strength and subtle appearance.
Dimensions
5/8″ long x 3/8″ wide x 1/8″ thick
15mm x 9mm x 3mm
(about the size of a penny)
One ounce per 100x units
Screws
All-weather / outdoor-rated screws are highly recommended.
Screw dimensions: #10 diameter x 24 thread x 1/2″ long (#10-24 x 1/2″ )
Also Acceptable: 3/16 diameter x 3/8″ to 1/2″ long (3/16″ x 3/8″ to 1/2″)
Save time and money, buy our high quality screws in our web store.
The Fence Clamp is designed for 12, 14, and 16 gauge
welded wire

. It is NOT designed for stretched/woven wire.
BUY THE FENCE CLAMP HERE:
" width="20″ height="20″>